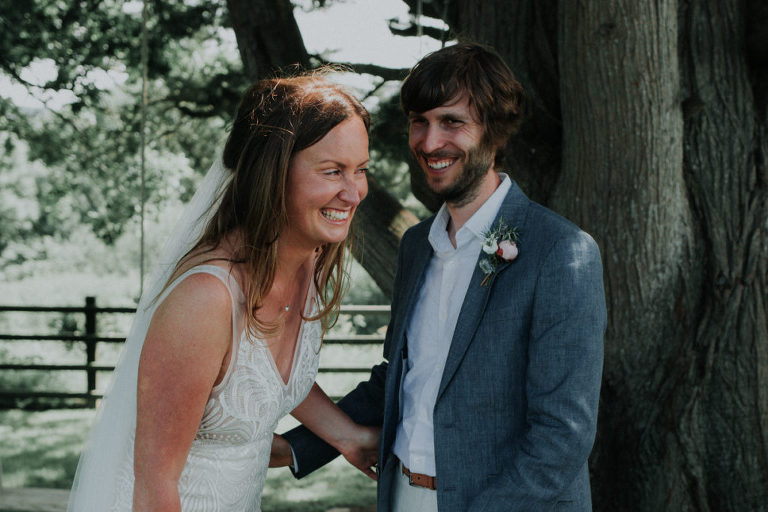 Super laid back outdoor wedding at perhaps the coolest barn in Devon – Higher Eggbeer Farm.
Jenna and Nick had the most amazing relaxed wedding day. It was full of personal touches which were hand crafted by this creative duo. You could not wish for a more down to earth pair to host a wedding at this gorgeous remote location on the edge of Dartmoor.
They were totally deserving of the blue sky day brimming with sunshine.The warmth from their family and friends filled the gardens and surrounding fields. I was utterly delighted to be asked to document their wedding day with a collection of chilled out wedding photographs.
I met Jenna and Nick through a previous wedding that I photographed from the equally fabulous fun loving party pair – Zoe and Ross at their Port Elliot wedding In Cornwall.
Although the day was filled with lots of love and laughter, there was a sadness to the day too, as there beloved baby dog Bambi was taken seriously ill on the eve of the wedding day. The team at Higher Eggbeer jumped in to help and took Bambi to the vet. Although this is not the ideal kind of start to a wedding day that Nick and Jenna planned, the support of the team and the friends and family ensured the wedding day could continue without a hitch.
Jenna and Nick created an outdoor ceremony in the gardens of Higher Eggbeer Farm, not far from Exeter. This festival style wedding had everything you could want, from camping in bell tents on site to classic 80's caravans, funky bar and tasty food.
Nick and Jenna this was a truly memorable wedding day. I wish you guys all the best of luck for your bright future together. You are rare and beautiful people to be around, super congratulations and thanks for having me it was so much fun.