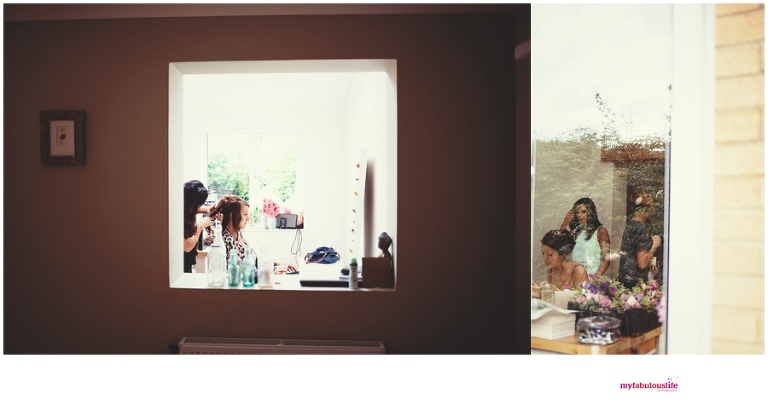 Full of colour with a real festival vibe, that was Ben and Emily's Cothelstone Manor Wedding. To start with it was a beautiful August day, there was a buzz in the air, frantic make up and heaps of hugs, chinks of glasses amid Emily and Ben's home. I love this part of a wedding, it is the energy that is electrifying. Emily wore a Claire Pettibone Dress with gorgeous silver Jimmy Choo shoes, it was like a moment from SITC. Emily made all the decoration herself and with the help of the local WI and with friends, created the fabulous colourful Hydrangea arch that greeted us. The air was filled with the smell of sweat peas, the cake table was full of treats for a family bake off  and homemade Sloe gin was on the table.
Ben wore a dapper blue suit and looked suitably handsome when I met him at Cothelstone Manor just outside Taunton, Somerset. They planned to get married outside in a tumbled down but aching beautiful stone outbuilding followed by marquee reception in the grounds of this stately home.
The ceremony began well, as to be expected but as Emily started to speak her vows there was an almightily clap of thunder, guests giggled and then the torrential rain came. So we all snuggled tightly into the stone building, made for 20 now filled with more than 80 people. The atmosphere was buzzing, everyone laughed and heckled, it was the most relaxed ceremony I have ever seen. All the nerves and anticipation vanished, the celebrant joked and the wedding continued. Weddings are full of expectation, but when you break it down you are surrounded by the ones you love having the best party on earth.
The best men's speech- yes there was two, it was comedy duo that had props and prints outs. It was like a sketch from the Reeves and Mortimer, I don't think I have laughter so much in a long while. Dancing commenced, DIY Photo Booth was used and the band started playing.
We also shot a wedding film so sit back and enjoy it
This was a beautiful, happy, colourful wedding oozing style and love. I wish Ben and Emily every success in the future together!