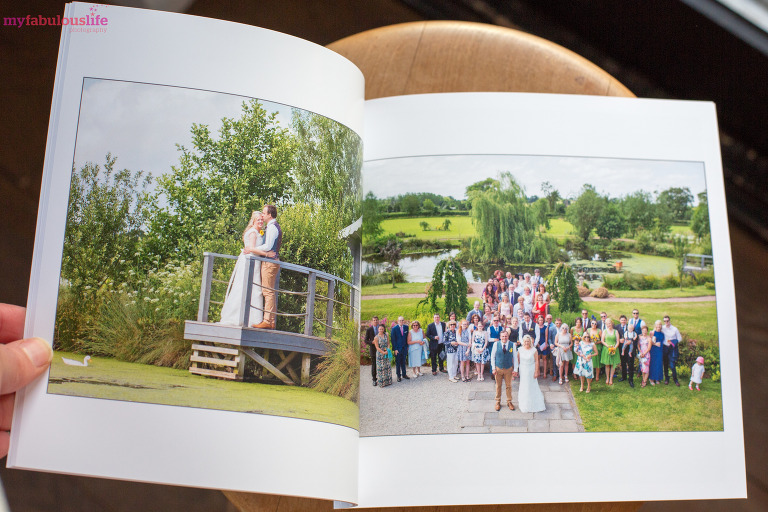 A wedding album is so much more than a collection of family photographs in a book, it is the object that you pass down to your kids and then on to there kids too. It starts to become a significant part of your family history.
I know, it can be tricky to choose the photographs to feature in your album because you just want so many, but like all stories you have to start by choosing all your favourites,then take few away, then a few more until you have a concise but full story. Some stories are longer than others, but gathering the photos you both think are right is the key to creating a beautiful wedding album.
Alan and Laura chose a 26 page album which featured approximately fifty photographs. This collection includes getting ready shots, the boys going clay pigeon shooting in the morning, detail shots of tables followed by the wedding ceremony, couple shoot, speeches and evening party.
The wedding album often starts with a couples favorite photograph, which maybe candid or perhaps one from the couple shoot as shown here on the front of Alan and Laura's album. By starting with your favorite photograph it's like BAM here we are! It's your hero shot, it the one you are going to put on the wall proudly to show off to everyone. The rest of the album can be linear so beginnings the day until the party, this is the way most albums work but the choice is as ever yours.
Once I have created an album I send it over to be checked or amended by a couple, this is such a sweet moment as you can view it like an online magazine with page turning facilities. Wedding albums make a fantastic first anniversary present.
Couple often give fantastic feedback about there wedding album as they see there wedding photos that they absolutely love all together, reliving the wedding day once again.